HOME INSTALLATION WORK TO KEEP YOU BUSY ALL WINTER​
If you own a home installation company with carpet, hard surface, doors, kitchens, window treatments, plumbing or electrical programs, we have just the thing to keep your mind at ease this winter! Are you nervous about closing sales through the season? Say no to the nerves and hello to more opportunities for work by becoming a sub-contractor for Crew2. Crew2 completes a consistent volume of jobs throughout the entire year - yes, even in the winter! We're always looking for qualified installation professionals and business owners to help us tackle the installations. When you become a sub-contractor with Crew2 you will get paid weekly, get consistent work, be able to focus on installing while we work out the logistics, and make your own schedule. If you can pass a background check, hold customary business insurances and have your business setup as an LLC or Inc, you should consider sending us your information right away. The holidays are right around the corner, and we want to make sure you're financially ready for them. We would love to have you on board!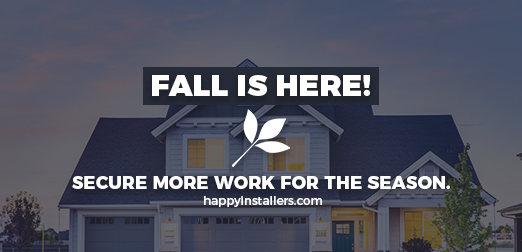 Fall is here! Secure more home installation work for the remainder of 2017
You can fill out the rest of your installation calendar by becoming a sub-contractor with us.
FLOORING INSTALLERS NEEDED IN WISCONSIN!​
Crew2 ​serves clients in 17 states throughout the Upper Midwest and Northeast providing a full array of home-related installation services. We complete thousands of installations every month, so we are always looking for qualified contractors. We are currently looking for flooring installers interested in joining our network in the Madison, Milwaukee and Kaukauna areas. We are looking for professionals who can install anything from sheet vinyl to carpet. If you meet the following business requirements we'd love to hear from you.All installers and helpers in your crew must be able to pass a background checkCrew2 must have customary business insurances including General Liability and Auto and Workmans CompA legal business entity must be set up as an LLC or Inc. For more information on how to become a flooring installer with us, see the links below. Flooring installers needed in Madison, WIFlooring installers needed in Milwaukee, WIFlooring installers needed in Kaukauna, WI
Post High School Option: DUNWOODY'S RESIDEntIAL CARPET ASSISTANT INSTALLER PROGRAM
After high school you have many choices: attend a University, enlist in the army, go directly into the job force, work to get your G.E.D, etc. A great option for those with entrepreneurial spirits and hard work ethics is to enroll in the Dunwoody Residential Carpet Assistant Installer Program. This program is a good fit for those who are looking for an alternative to attending a 4-year college. The program is only 7 weeks and 120 hours long. It provides students with the knowledge and skills necessary to install carpeting in a residential home. Why choose the carpet installation industry? The residential carpet industry is steadily growing, and there is a need for knowledgeable, well-trained carpet installers. Installers with experience can often advance in their careers fairly quickly as a supervisor, contractor or even business owner. What will students learn in the class?Students will learn industry terminology, customer service techniques, and the various preparation methods and procedures for installing flooring. Safety and ergonomics are practiced throughout all courses. Students who complete the program will leave prepared to join a carpet installation crew as a Residential Carpet Assistant Installer. Plus the class places a special emphasis on how to begin one's own flooring business in the future. What does working as an Assistant Installer entail?Assistant Installers are expected to place work orders, prepare job sites, install carpeting, practice good customer service, and properly clean and present improved living spaces. For more information on the Residential Carpet Assistant Installer program at Dunwoody College of Technology, visit www.happyinstallers.com/training.html.
Seeking flooring INSTALLERS for sub-contract work!​
Do you own your own flooring installation business? Is business slowing down for you? We have the perfect opportunity for you. We are looking for crews to join our sub-contract network of flooring installers. You are the perfect fit to join our network if your business is registered as an LLC or Inc., you have auto and workmans comp and general liability insurances, you have experience installing hard surface, carpet or vinyl flooring, you have your own tools and transportation, and you and your helpers are able to pass a background check. Crew2 is the installation services company for The Home Depot. We have been in business for over 30 years, have over 1,800 sub-contractors in 17 states, and are located primarily in the upper Midwest and New York. We're family owned and operated with a culture that values, supports and appreciates its sub-contractors. If you are interested in learning more about potentially installing with us visit www.happyinstallers.com and fill out our form with your information. Someone will reach out to you within 24-48 hours to provide more details.
Become A Sub-Contractor Today